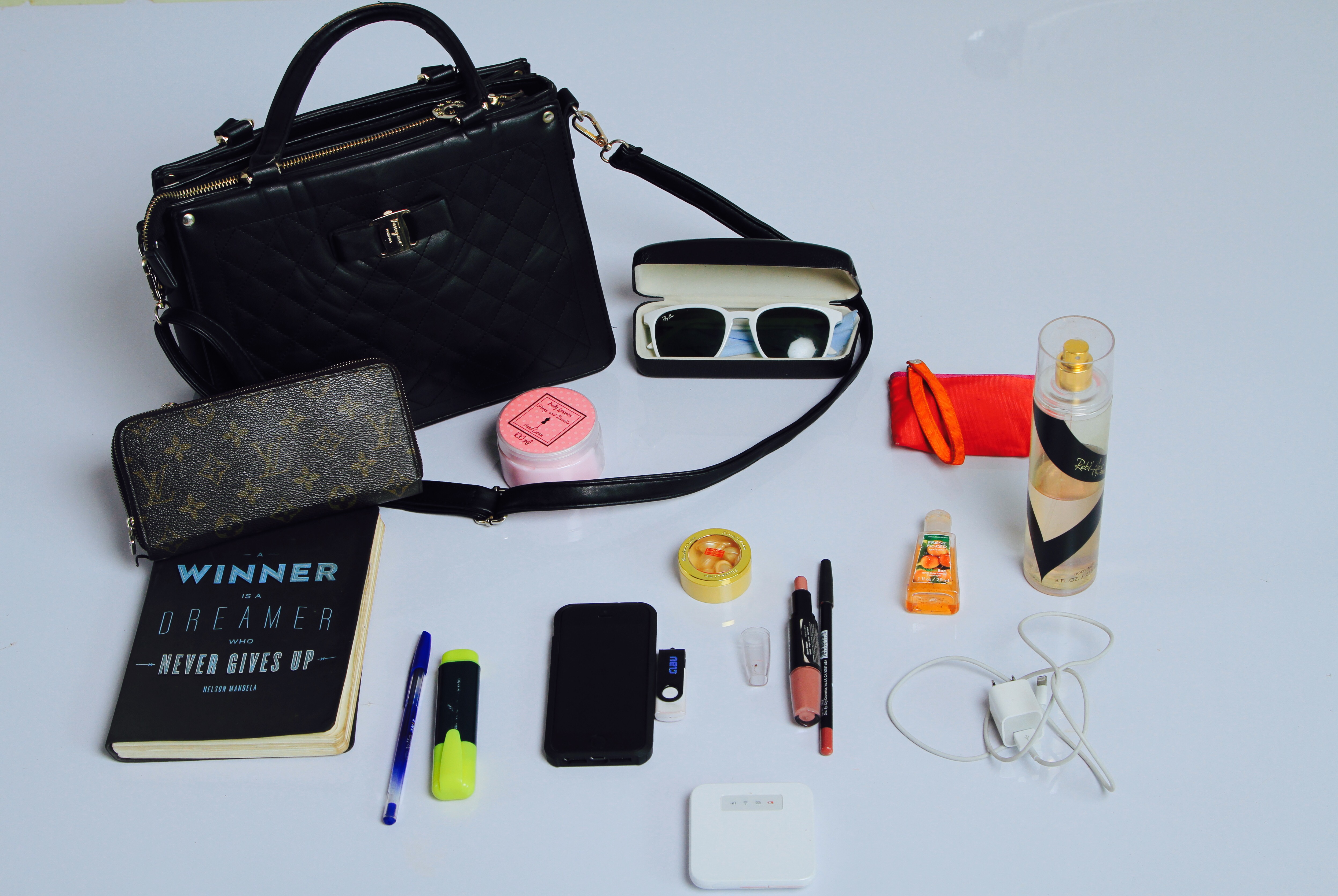 Ever wondered what's in a woman's huge bag? This is a question that has left most men and a few ladies (and i mean very few) puzzled over the years. And the answer to that famous question is "You will never get it", only us ladies know why we carry two different sanitizers and three lotions in our purses LOL (true story to some ladies) – i guess it's some sort of "woman language". A man steps out of the house with just his wallet, keys and maybe laptop – which is not the case for us ladies. Personally i carry my handbag, laptop bag, water bottle, and an extra bag if i am packing lunch or breakfast for work. Yes it might sound a lot but it's not and i am not complaining one bit, sometimes i have two make two trips to the car in the morning just because i can't carry all this staff in one go. LOL Anybody else doing this?
When i get to thinking the content in ladies' bags differ according to personality and the person's daily curriculum. Some of us ladies are hoarders inside our bags and carry staff we don't really need but will find its use when we are asked why we carry them. So today am breaking down the items i carry in my bag and why.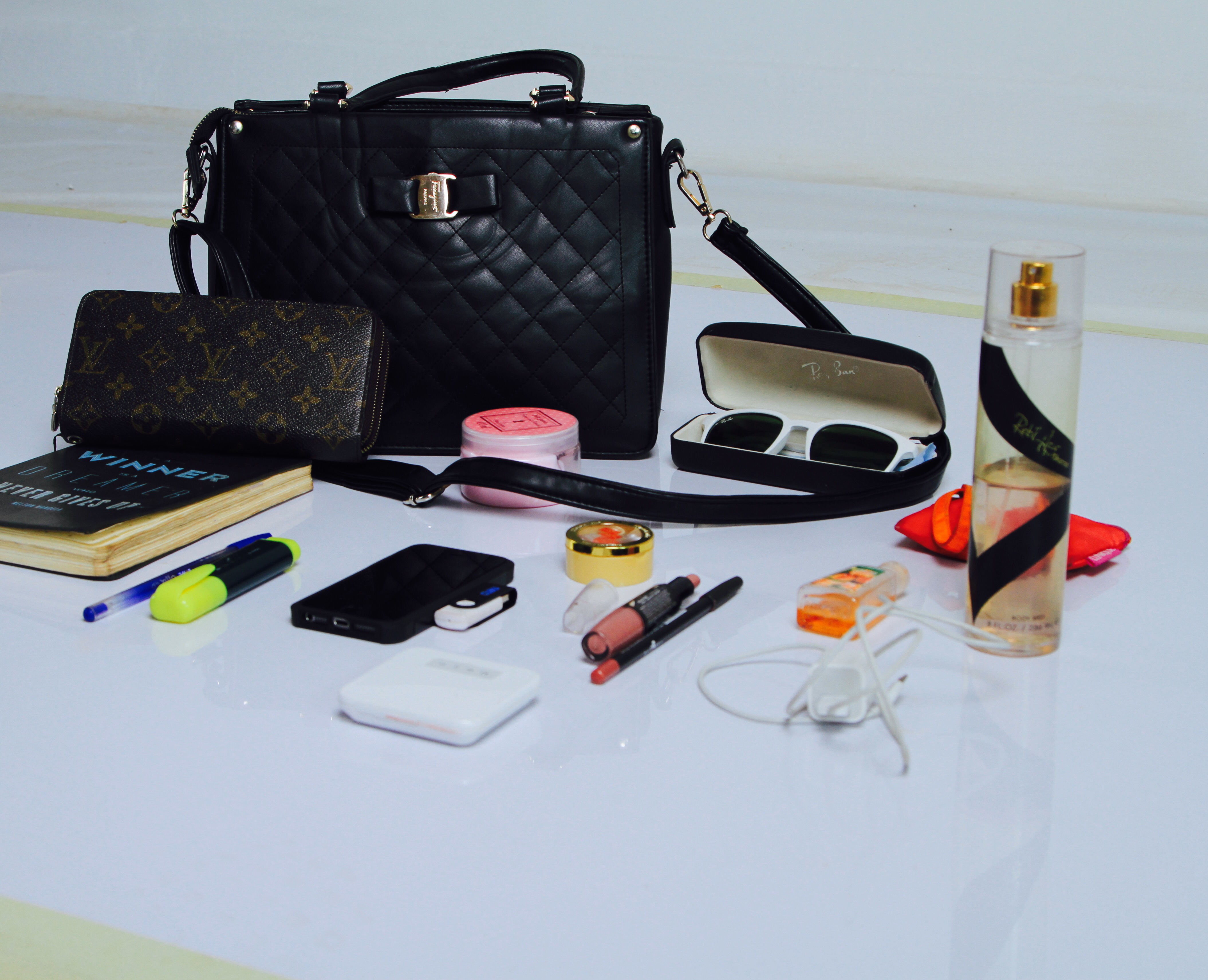 Wallet (Gifted):
Need i mention why? No right? I didn't think so either.
Notebook (Gifted):
I  enjoy making lists of everything – i love keeping progress of everything i do so a note book comes in handy.
Pen and Highlighter:
I write almost everything down plus my life as a student and an employee needs me to move with a pen. I am addicted to highlighting while studying.
Pair of sun glasses (Ray Ban):
Nobody's got time for the sun right? And i wonder if it's just me but i believe a pair of sunglasses can elevate your outfit in a second and as i mentioned a while back on Snap Chat (add me itsmayabee11), i use sunglasses as a shield from the traffic police on the road side waiting to stop me LOL. I always carry a pair of shades in my bag and an extra pair in the car just in case i forget or misplace one.
My phone and charger:
Ever wondered what you would do without your phone? Personally a lot as my phone is my biggest distraction but i would still miss it. At the rate i use my phone, i can't afford to leave my charger behind.
Flash disc: 
For all the school and work documents and in case i need to catch up on shows – i still don't do my own downloads.
Lipstick and liner of the day (City color Matte to gloss and Liner):
Fresh lips all day, everyday. I carry the lipstick and lip liner i wore in the morning in case i need to freshen up which i always do.
Hand lotion and sanitizer (Body Shop):
Who's about dry cracked hands? Well, i am not about that life so i carry a hand lotion everyday but if am being honest i love the scent of the sanitizers but they leave my hands dry so i use the lotion a few minutes after applying the sanitizer. It's a plus for me as i get double the scent.
Body splash (Rebel by Rihanna):
Scent is one of the most important things to me, i relate it so much with hygiene and i think the two should go hand in hand. I used to carry a perfume as well due to my scent obsession but stopped after they started getting broken.
BAG –  Salvatore Feramago  Thrifted
PS: I always carry wipes or a pack of small tissues which i forgot to include in the pictures – i always get confused when am shooting, i always forget something – always.
What do you carry in your bag? Any suggestions on what you think i should be carrying in my bag and am not?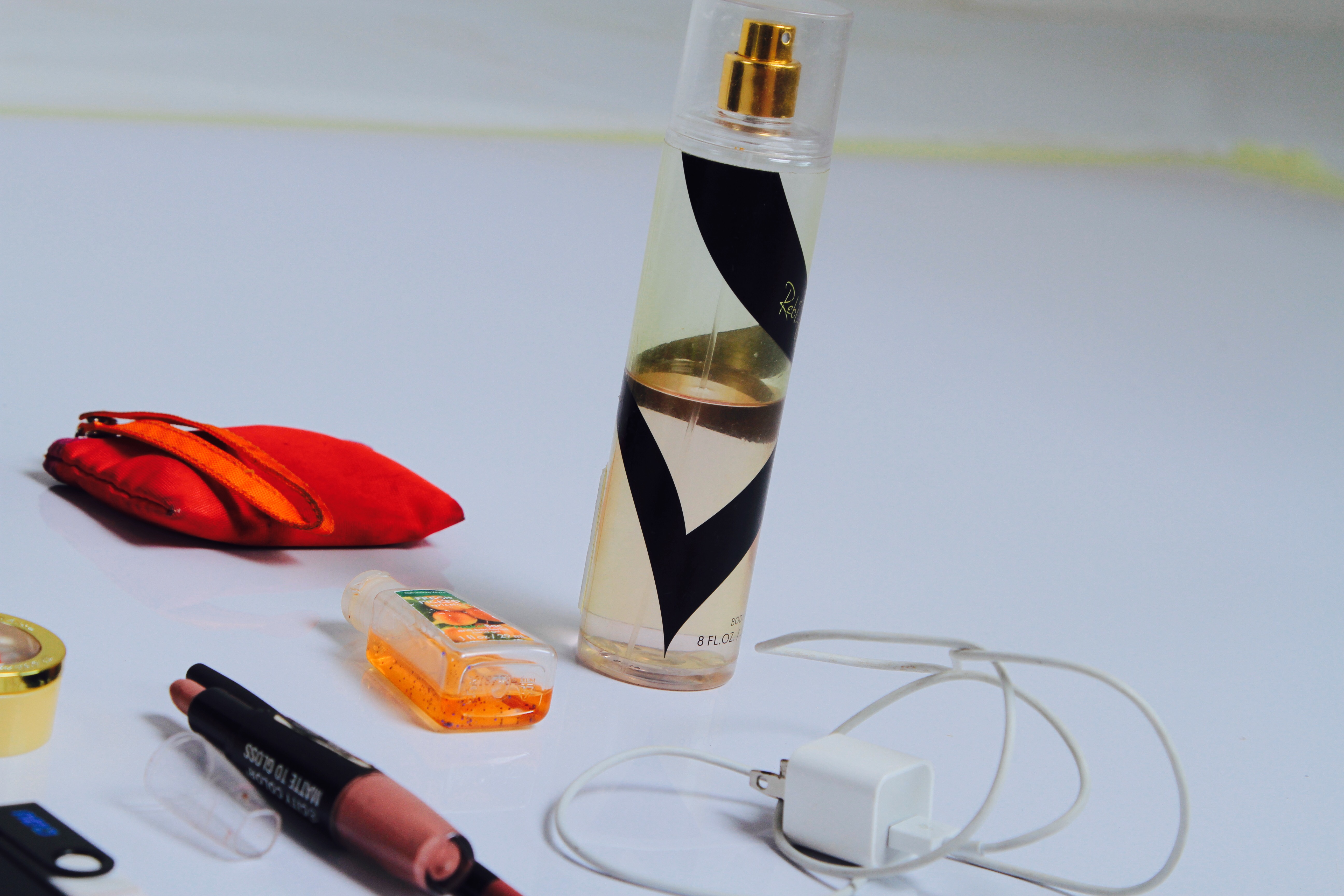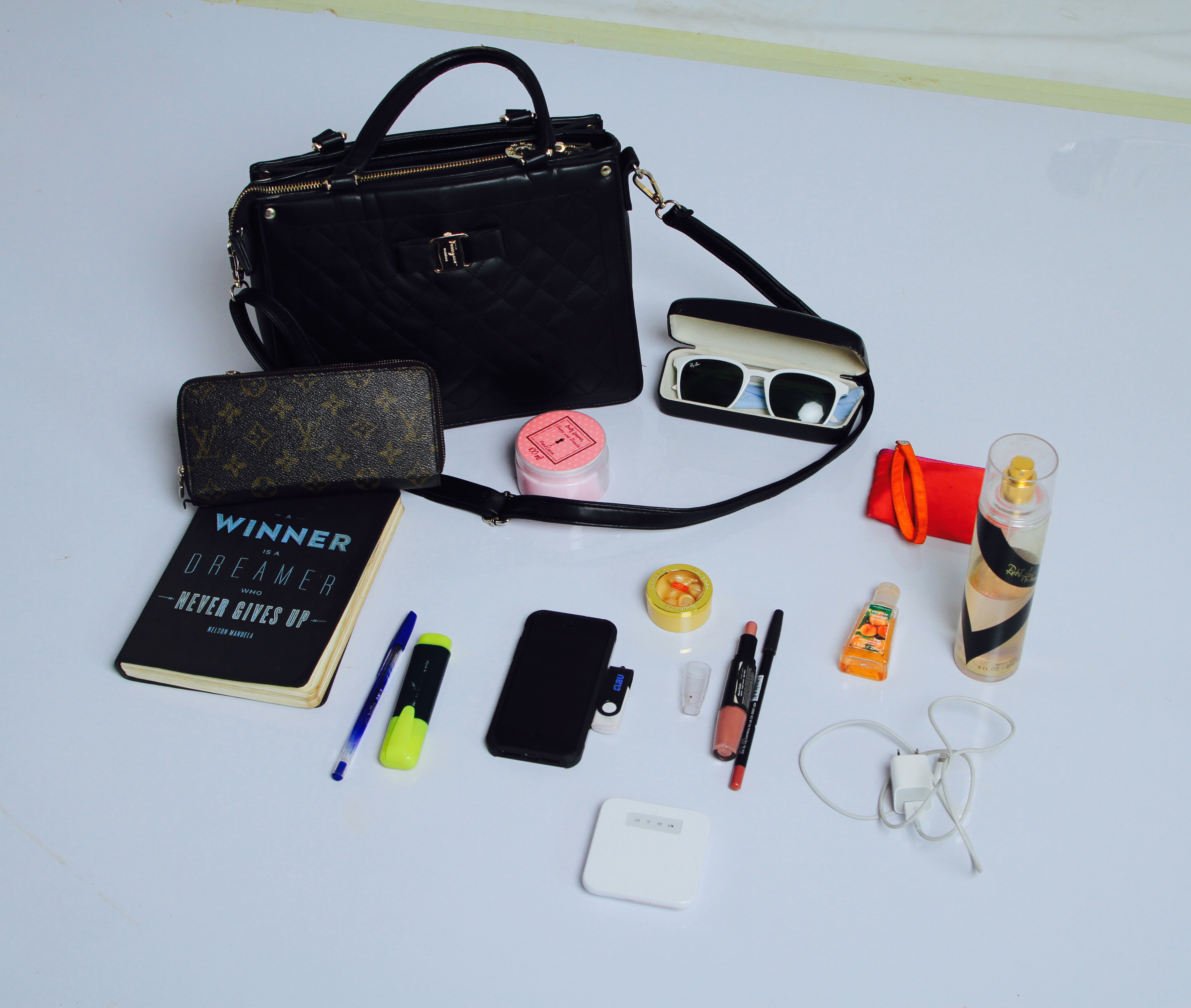 Stay Fab
XOXO
MayaBee